Manage customer calls anywhere with cloud call center solution
Empower your support teams to work remotely with MyOperator contact center solutions integrated with powerful cloud telephony features.
Boost your business support system with call center solution
Built with cloud telephony technology, MyOperator call center solution is an advanced call management solution that works online. With contact center solutions, you can set up a remote team of support executives, manage calls from customers and prospects on-the-go, and efficiently manage inbound as well as outbound business calls.
Set up and manage distributed teams to manage business calls on cloud.
Instant online availability with zero capex and no hardware requirement.
CRM integration for efficient support and better customer experience.
Improve business growth with smart decisions based on call analytics.
Start 3-day trial of call center solution
Try MyOperator call center solution with all features unlocked.
Absolutely free. No credit card required.
Benefits of call center solution
Distributed teams to adapt remote working
With cloud-based contact center solutions, you can add support agents to your call center from any location. Once added to the call center, your support executives can manage incoming business calls right on their phone while working at any place. To take care of business calls on the phone, MyOperator has a dedicated call management mobile application. While on tablet and PC, MyOperator live dashboard can be used. MyOperator call center solution has built-in capabilities to manage remote teams. With the live panel, you can monitor the performance of each remote agent, track live calls, listen to call recordings and provide necessary guidance wherever required.
---
CRM integration for efficient call management
You can combine MyOperator contact center solution with any CRM that you might already be using or a custom software with MyOperator API integration. Presently, MyOperator provides one-click integration with popular CRM services, including Zoho, Freshdesk, Salezshark, Leadsquared, Pipedrive, and Kreato. Integration of contact center solution with CRM software empowers support agents to manage calls efficiently and provide seamless customer service. Such integration allows support teams to see customer account details and call history in one unified interface, letting them focus on providing support rather than juggling through multiple apps.
---
Hosted call center solution with zero capex
The call center solution provided by MyOperator is hosted on the cloud telephony technology. It neither needs any capital expenditure nor any hardware set up. Fully hosted on the cloud, you can get your call center up and running in a few minutes. Such a contact center solution works well on your phone, tablet, as well as PC. The best part is that it is continuously updated over the cloud, just like your mobile applications, and doesn't need any work regarding the maintenance or managing updates. Thanks to its app-like interface, even a person with zero technical knowledge can efficiently use the MyOperator call center solution with zero to minimal training.
---
Inbound + Outbound: 2-in-1 solution
MyOperator contact center solution is deliberately designed to work as an inbound as well as an outbound call center. Depending on your business needs, you can use it as an inbound call center, outbound call center, or both. Either you need an inbound solution to provide top-notch support to your customers or outbound solution to make cold calls to your business prospects, MyOperator call center solution can get the job done. With automatic call distribution functionality, call center solution makes the call handling process smoother and faster. With the click-to-call feature, sales agents can make outbound calls on a click without manually dialing up the number.
---
Built-in virtual receptionist to handle large call volume
Integrated with the Interactive Voice Response (IVR) system, the contact center solution provided by MyOperator also works as a virtual receptionist. When a customer calls on your business phone number, they are presented with an IVR menu. Depending on their inputs, they are connected with the support agent of the appropriate department. Virtual receptionist capabilities of call center solutions remove the need to transfer incoming calls to the right agent manually and enable smooth handling of a large number of calls. A virtual receptionist can also handle calls when your support agents are away. The virtual receptionist brings automation in business calls management and reduces the on-hold time with faster on-call resolution.
---
Capture business opportunities with a 100% response rate
You will agree that every call from a customer or prospect is a business opportunity. Missed calls mean missed opportunities for business. To ensure a 100% response rate, MyOperator call center solution provides a dedicated system to manage missed calls. In the first place, our call center solution attempts to connect the incoming calls to all available agents. If no agent is available, the caller is provided with the option to leave a voice message, and such missed calls are added in the follow-up queue. When your agents are back, they can go through the follow-up queue and make sure that all missed calls are answered. Response to all incoming calls means higher customer satisfaction and zero missed opportunities.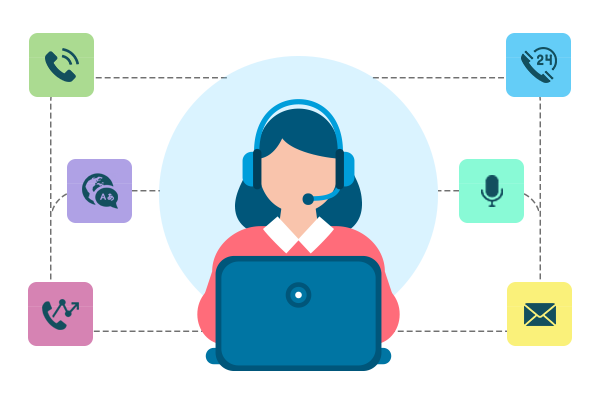 Features of call center solution
MyOperator is an excellent provider of call center solution
Premier customer support
At MyOperator, we ensure round-the-clock support for all customers. We treat every call as an opportunity to solve a problem for our customers and strengthen our relationships. That's how we have won and continue to maintain the faith that 10,000+ companies bestow upon us for their business calls management. As MyOperator customer, you will be entitled to our premier customer care, 24*7. Whenever you need technical help, need to add a new feature, or need any help with your call center solution, you can always call us at +91 92129 92129 and our customer support team will be with you with a solution.
Call center solution with smart features
The call center solution provided by MyOperator comes with rare cloud telephony features. Live call transfer facility and 99.99% uptime are two of them. With live call transfer, your agents can refer customers to other agents without disconnecting the call. The resolution of customer issues on a single call leads to a higher satisfaction rate. MyOperator's call center solution is based on the cloud. You neither have to set up any hardware nor spend money on capital expenditure. MyOperator provides instant set up of contact center solutions. Once you sign up, our team will set up a call center solution for your business in less than one business day.
10,000+ Customers Trust Us
Businesses across the globe are using MyOperator for efficient and smooth call management.



Collaboration with MyOperator has been an amazing experience for our entire business as it has automated one of the most tedious processes of our system. This leading cloud telephony product has delivered added benefits to our business in terms of strengthening vendor experience and employee convenience.



This distinctive solution provided by MyOperator has majorly bought productivity improvement of the HR team and allowed them to effectively manage their routine tasks. The result has surpassed our expectations and the system has significantly assisted us in bringing the required ease for our employees.
10,000+

Businesses Activated


200 Million

Calls Enabled


4.5

Google Rating
---
#1 Ranked in India's Cloud Telephony Leadership Matrix
Frequently Asked Questions
We are here to answer all your questions regarding the call center solution and how it can help your business. If you have some other questions, visit our support center.