Power Truly World-Class Communication For Your Healthcare Services
---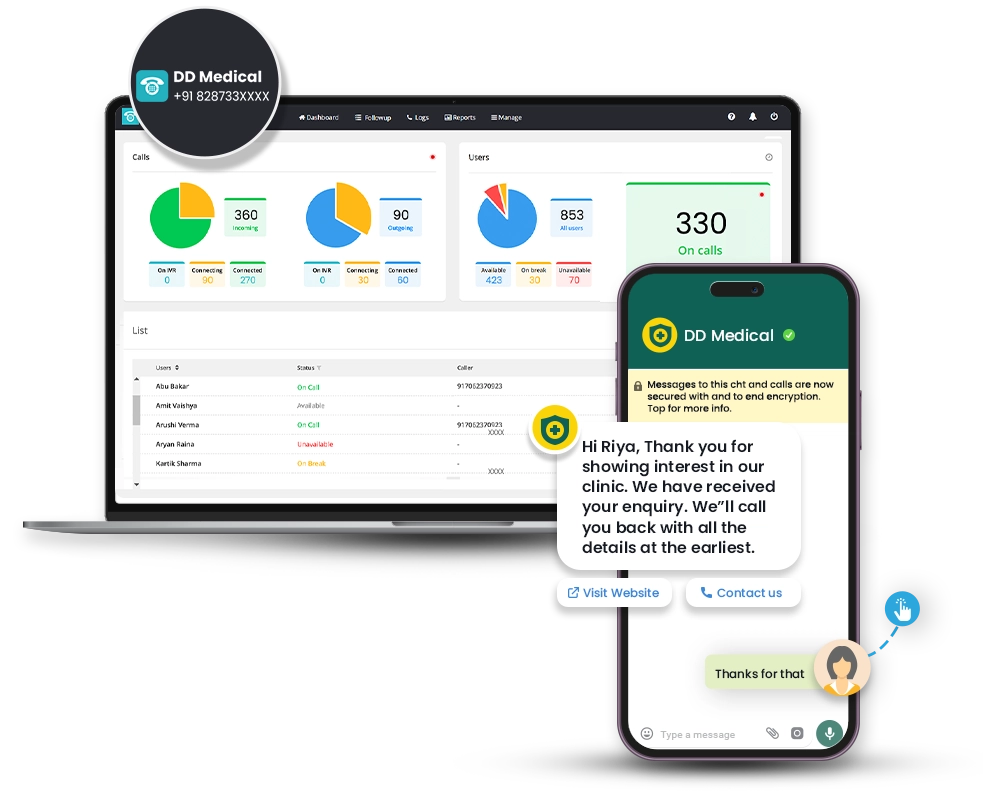 Deliver Patient Support Through 24/7 Customer Care
---
VOIP-enabled Customer Care Center
Our inbound and outbound cloud call centers help you capture and route 100% of all interactions. Ensuring you deliver superior support at lower costs.
Superior Support Through Chatbots
Deploy customized WhatsApp chatbots to address common queries and deliver 24/7 Support.
CRM Connect
MyOpertor connects remote calls with major CRMs such as Zoho, Leadsquared, Salesforce to give you a 360 degree patient view.
Ensure 100% Compliance
Audit every communication through recording, centralized dashboard and AI-powered predictive analytics.
Accelerate Patient Enrollments
---
Call routing
Cater to the specific needs of the patients with call routing and ensure faster enrollments by reducing their wait time.
Click-to-Call Services
With a click-to-call widget, you can connect a call between the patient and the respective physician with a single tap right from the website or the app.
Toll-free + Multi-level IVR Solutions
Give a single toll-free number to all your callers and help them easily navigate to reach different departments.
Outbound Calls, WhatsApp Campaigns and SMS
Provide automated and personalized updates to patients related to their treatment through auto-diallers, WhatsApp or SMS-call integration.
Mobilize Remote Personnels Through MyOperator Corporate Line
---
MyOperator Corporate Line
Equip your delivery/ collection force with branded virtual number apps. Track and record every call for support executives performance.
High Trust Truecaller Integration
Leverage our Truecaller integration to display your brand, reason to call to deliver peace of mind to your patients.
Number Masking Solutions
Mask personal contact numbers of physicians and agents, connect calls via virtual numbers.
By using MyOperator, Apollo Healthcare has been able to improve its marketing ROI tracking to 90-100%. Our first interaction with a patient usually starts through a phone enquiry. MyOperator has helped us streamline patient enquiries generated by our awareness campaigns and promotions. We are able to completely track conversions and deliver information more efficiently to all our patients.
M G Nabi Baig, Digital Marketing Head, Apollo Healthcare.
Success Stories
How MyOperator helped Healthcare Organisations Boost their Performance
---
How Prime IVF Centre Builds Customer Trust Through MyOperator - Truecaller Integration
The Prime IVF has reached out to MyOperator to assist them in optimizing their calling process. MyOperator worked with the Prime IVF facility to implement outbound call management with Truecaller's Verified Call ID integration. MyOperator integrates with Truecaller for Business to offer a trusted call management platform layered with identity and branding solutions.
This integration has helped Prime IVF achieve:
Increased efficacy in answering patient queries which is a major prerequisite in the healthcare industry. The calls made through Truecaller's Verified Call ID are picked up by patients/families on the first go.
Control of their branding and customer relations while managing outbound patient communication.
Efficient call audits and improvements in their team performance.
Timely follow-ups on the missed ones.
How Apollo Healthcare Optimized Marketing ROI with MyOperator Virtual Numbers and Call Analytics
Apollo Healthcare's initial contact with a patient is usually initiated by a phone call. MyOperator deployed virtual numbers and IVR incoming/outgoing services for Apollo Healthcare. They used Virtual numbers for 8 different verticals and IVR feature automatically interacts with callers and collects information by displaying menu options to them. It then takes actions based on keypad or voice response responses from the caller.
This integration helped Apollo Healthcare to:
Improve its marketing ROI tracking to 90-100 percent
Streamline patient inquiries through campaigns and promotions
Streamline complete conversion tracking
Deliver information to all of their patients more efficiently.
The Complete IVR and Call Management Features For Healthcare Organizations
---
Single business number
Get a single branded virtual or toll-free number for your Healthcare Organisation.
Welcome patients in the language they speak. Localize your IVR greetings and prompts with our muti-lingual language support.
Ensure faster customer resolutions by configuring customized WhatsApp Chatbot responses. No more depending on your sales or support agents all the time.
IVR + SMS
Deliver omni-channel communication. Automatically send SMS after every call to deepen customer engagement.
MyOperator IVR platform integrates with all major CRMs helping you seamlessly manage patient enquiries and customer engagement.

MyOperator integrates with Truecaller to provide you with numbers with verified calling and higher pick-up rates.
Smart Automation
Automate and enhance timely follow-ups, efficacy in answering patient queries, and more to increase efficiency.
24x7 Support
Get dedicated support whenever you hit a snag or have any queries using our IVR software.
Live Analytics and Reports
Track the call performance of your team. Get daily reports on the number of calls placed, received, and missed.
Frequently Asked Questions
10,000+

Businesses Activated


200 Million

Calls Enabled


4.5

Google Rating
---
#1 Ranked in India's Cloud Telephony Leadership Matrix