Inbound call center solution for outstanding customer support
Let your customers connect with your support executives anytime and anywhere with MyOperator cloud-based inbound call center.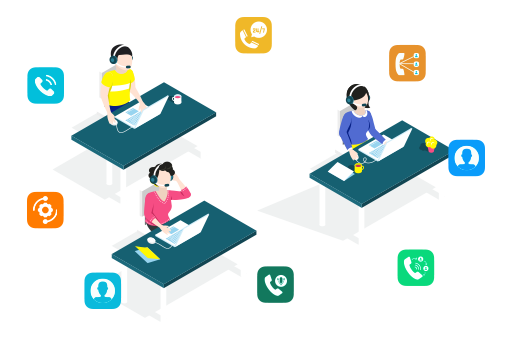 Inbound call center solution for your business
As per the BrightLocal survey, 60% of the customers prefer to connect with businesses on a phone call rather than using chat or email. With MyOperator cloud-based inbound call center solution, you can enable your customers to conveniently connect with your support agents on call. That means more calls, new customers, more business, and increased sales and profits. MyOperator inbound call center software is designed to handle multiple calls simultaneously from any location. Thanks to the cloud-based technology, we can get an inbound call center up and running for your business in a few minutes.
Benefits of MyOperator inbound call center
Better customer care
The inbound call center can take care of any number of incoming customer calls. All incoming calls are distributed to the available agents mapped on the call center software. If all agents are busy or no agent is available due to any region, the incoming calls are logged as missed and callers are provided with the option to leave a voice message. Once your support agents get free or get back to their job, they can follow up on all the missed calls and voice messages received. That means zero unattended calls and a 100% response rate, leading to increased customer satisfaction and better brand image.
---
Remote working for support teams
MyOperator inbound call center is a cloud-based solution that works online. That means all your support agents can attend customer calls while working from anywhere, on any device. With a cloud-based call center solution, you can provide your team with the flexibility to work remotely. The remote working trend has been on the rise because it leads to greater business benefits including better productivity, flexibility, and employee satisfaction. Also, once you have a remote inbound call center, you are not restricted to local boundaries to choose the right talent and can hire the best candidates from the global talent pool.
---
Scale with your business
Adding or removing agents to the MyOperator inbound call center is as easy as creating or deleting a contact on your smartphone. As your business grows and you hire more agents, you don't need to rush to buy new landlines or get a mechanic to expand your wireline! All you need to do is login to your MyOperator dashboard, enter the name, role, and mobile number of the agent and validate with OTP. That's all what it takes to add a new agent in a cloud-based inbound call center software. As you can imagine, with MyOperator, scaling your inbound call center will be a breeze. It grows as much as your ambitions grow.
---
Efficient workflows with integration
The cloud-based inbound call center solution can be integrated with the CRM of your choice. Call center and CRM integration can save significant time that your support team might be wasting in manually updating the records that can be automated. With MyOperator inbound call center software, you can integrate popular CRM software like Zoho, Freshdesk, LeadSquared, Pipedrive, and Kreato in just a few clicks. For each incoming call, support executives can access up-to-date customer account information and support history. Such integration facilitates smarter workflow and even better and seamless customer service.
---
Instant set up with zero capital expenditure
MyOperator inbound call center services work on a subscription model. The set up can be completed in a few minutes. There is no need to put in any hardware or take care of any maintenance. That means you don't need to lash out any capital expenditure to get an inbound call center. With MyOperator inbound call center, you can enjoy enterprise-grade call center features like live call transfer, sticky agent, and call barging — all at a fraction of cost. Besides, we take care of all the maintenance costs leaving you with zero risks against unplanned charges and surprising bills.
---
Facilitate experiential marketing
In the age of hyper-aware world, people care more about the overall experience with a business than they care about the products and services of it. Responding to customers as and when they want is vital for delivering a quality experience and keeping people happy. With cloud-based inbound call center, you stay available for your customers 24*7. It will not only make your existing customers happy but will also convert them into a fan of your brand who will spread your business with positive word-of-mouth. Rightly said that keeping customers happy is the best form of marketing and inbound call center can help you with that.
Features of inbound call center
Live call monitoring through live panel with real-time call logs and agent performance analytics.
Route calls to different agents based on caller location, time, preferred language, and other factors.
Monitor if quality assurance standards are met by listening to call recordings stored on the cloud.
Integrate inbound call center with your favorite CRM software and automate redundant tasks.
Enhance brand image with multi-level IVR support and custom business greetings.
Call queue
All incoming calls are routed to the available agents enabling real-time management of multiple calls.
MyOperator is an excellent provider of inbound call center
Premier customer support
At MyOperator, we ensure round-the clock support for all customers. We treat every call as an opportunity to solve a problem for our customers and strengthen our relationships. That's how we have won and continue to maintain the faith that 10,000+ companies bestow upon us for their business calls management. As MyOperator customer, you will be entitled to our premier customer care, 24*7. Whenever you need technical help, need to add a new feature, or need any help with your inbound call center, you can always call us +91 92129 92129 and our customer support team will be with you with a solution.
Agile, reliable, and all-in-one inbound call center solution
The inbound call center solution offered by MyOperator is based on cutting-edge cloud telephony technology. Our call center software is designed to accommodate the needs of businesses of all size and scale, from small businesses and startups to international enterprises. Besides industry-standard call center features, MyOperator call center solution ships with rare features like call barging, live call transfer, and deep integration with software your business might be already using. With all updates delivered over the cloud and zero maintenance time and cost, you can focus on your best work. Assured, with MyOperator, your inbound call center will be a thing you will never worry about again.
10,000+ Customers Trust Us
Businesses across the globe are using MyOperator for efficient and smooth call management.



Collaboration with MyOperator has been an amazing experience for our entire business as it has automated one of the most tedious processes of our system. This leading cloud telephony product has delivered added benefits to our business in terms of strengthening vendor experience and employee convenience.



This distinctive solution provided by MyOperator has majorly bought productivity improvement of the HR team and allowed them to effectively manage their routine tasks. The result has surpassed our expectations and the system has significantly assisted us in bringing the required ease for our employees.
10,000+

Businesses Activated


200 Million

Calls Enabled


4.5

Google Rating
---
#1 Ranked in India's Cloud Telephony Leadership Matrix
Frequently Asked Questions
We are here to answer all your questions regarding the inbound call center solution offered by MyOperator and how it can help your business. If you have some other questions, visit our support center.