Get a voice to reach millions of prospects and customers
With IVR call blasters, you can call thousands or millions of customers with a personalized message for getting feedback, promoting your new product or service, informing them about your upcoming event, and so much more!
IVR blaster: Voice broadcasting and 1:1 personalized call with customers
IVR blaster—which is also referred to as call blaster, robocalling, or voice broadcasting— is a cloud telephony service that allows you to call all your customers and prospects at once to broadcast a message, collect feedback, or notify them of important announcements and offers.
Schedule bulk calls in advance or make personalized calls based on customer transactions.
Remind customers about membership renewals and important offers and product updates.
Send interactive voice messages to collect customer feedback and run surveys.
Qualify leads based on IVR response and directly connect qualified leads with agents.
Get IVR blaster demo
Contact us for details and book a demo.
Reimagine how you connect with your prospects and customers
Broadcast your next big thing on 1:1 call with your customers
With voice broadcasting through IVR blasters, you can market your offers, new products and services, and brand campaigns at a whole new level. Your customers can ignore your emails or messages, but they are least likely to ignore a call which ultimately talks about their benefit. If you are organizing an event, you can register your customers right with IVR inputs on call and send them event details through a follow-up SMS, email, or call. If you have a discount offer or a new product in your catalog, you can use an IVR call blast to announce it to all your customers. With voice broadcasting at your service, all your customers are just a call away!
---
Run surveys or collect feedback
Whether you want to collect customer feedback on your products and services or want to run a survey for your next research project, IVR call blasters can help you grab the attention of your audience and collect responses. With IVR calls, you can reach millions of customers at once, ask them a series of questions one after the other, and collect their responses through voice recording or keypad inputs. When many people find it difficult and boring to fill a long survey questionnaire or feedback form, IVR calls can make it much easier and interesting. You can also trigger IVR calls for customer feedback on a transactional basis and make your customers feel heard and valued.
---
Remind: Don't let your customers forget important dates
As a businessperson, it's your responsibility to keep your customers informed about their important dates with your business. With IVR calls, you can remind your customers of a bunch of things that they don't want to miss. For example, if they have an appointment with you, you can give them an IVR call reminder with date, time, and place. If their subscription is pending renewal soon, you can ask them to renew their subscription well before the due date. Such IVR calls can be scheduled from the panel or made on a transactional basis. Their highly personalized nature makes such calls so effective to build better relationships and increase retainerships.
---
Qualify your leads and automatically distribute to agents
Not all prospects are right fit for your products or services. Before connecting prospects with your agents, you can ask them a set of questions to determine if they meet the requirements to avail of your offerings. Using bulk outbound IVR calls with progressive dialer, you can collect responses from your prospects on questions designed to assess their eligibility. Based on the response received, a lead can be classified as qualified or disqualified. Every qualified lead can be automatically connected with your sales agents for a 1:1 call. It can save a big chunk of your agents' time who would otherwise be busy interacting with leads that are not worth pursuing.
Use contacts from your CRM or import the list of contacts from Google sheets & CSV files.
For leads, automatically dial the numbers from the call list one by one as soon as an agent becomes available.
Nurture prospects through IVR questions and instantly connect them with the right agent and department.
Ensure the privacy of your customers and agents by hiding their personal numbers from each other.
Unlimited calls
Grow your business by reaching millions of customers with personalized calls and voice broadcasts.
Scheduled campaigns
Schedule bulk call blasts and voice broadcasts in advance or send it on transactional basis.
Automatically distributes the calls picked-up by customers to one of the available agents.
Record every outgoing call and securely store in the cloud for staff training and quality audit.
Keep an eye on all outgoing calls and call center performance with real-time call tracking.
Get daily call center reports along with analytics and useful data for better business decisions.
Send personalized follow-up messages to your customers and prospects immediately after the call.
Watch real-time activity of all calls made through IVR blaster with an online call center live panel.
Experience the MyOperator difference
Premier customer support
At MyOperator, we ensure round-the-clock support for all customers. We treat every call as an opportunity to solve a problem for our customers and strengthen our relationships. That's how we have won and continue to maintain the faith that 10,000+ companies bestow upon us for their business calls management. As MyOperator customer, you will be entitled to our premier customer care, 24*7. Whenever you need technical help, need to add a new feature, or need any help with the MyOperator IVR blaster service, you can always call us on +91 92129 92129, and our customer support team will be with you along with a solution.
IVR blaster with exclusive features
IVR blaster feature in outbound call center provided by MyOperator comes with rare cloud telephony features. Live call transfer facility and 99.99% uptime are two of them. With live call transfer, your agents can refer customers to other agents without disconnecting the call. The resolution of customer issues on a single call leads to a higher satisfaction rate. MyOperator outbound call center and IVR blaster service are based on the cloud. You neither have to set up any hardware nor spend money on capital expenditure. MyOperator provides an online setup of outbound call centers. Once you sign up, our team will set up your outbound calling solution and IVR blaster service in less than one business day.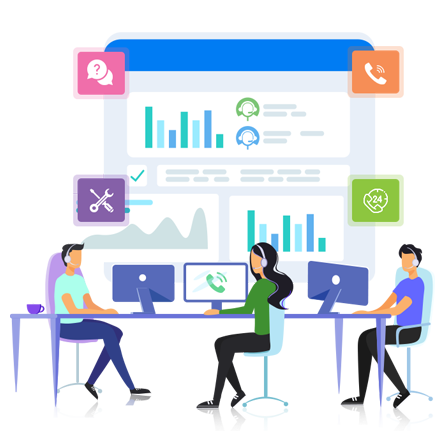 10,000+ Customers Trust Us
Businesses across the globe are using MyOperator for efficient and smooth call management.



Collaboration with MyOperator has been an amazing experience for our entire business as it has automated one of the most tedious processes of our system. This leading cloud telephony product has delivered added benefits to our business in terms of strengthening vendor experience and employee convenience.



This distinctive solution provided by MyOperator has majorly bought productivity improvement of the HR team and allowed them to effectively manage their routine tasks. The result has surpassed our expectations and the system has significantly assisted us in bringing the required ease for our employees.
Book A Demo of IVR Blaster Service
Contact us for IVR blaster service inquiries and book a demo.
Frequently Asked Questions
We are here to answer all your questions regarding the MyOperator IVR blaster service available with the cloud call centerand outbound call center and how it can help your business. If you have some other questions, visit our support center.