Get a 1800 toll free number in just 3 minutes
Make it easy for your customers to connect with you. Give your business the credibility it deserves. Claim your 1800 toll free number today.
Toll free number can grow your business
Toll free number is a telephone number on which your customers and clients can call you for free. Anytime. Anywhere.
Customers prefer to call businesses with a toll free number.
Toll free number adds caring brand image to your business.
Advertisements with a toll free number get more attention.
Toll free number provides an easy way to handle customer calls.
With an IVR menu, toll free number can work as a virtual receptionist too.
With MyOperator, you can claim your 1800 toll free number in less than 3 minutes. For a demo account, you can sign up online or call toll free at 1800-123-7774.
Start 3-day trial of toll free number
Absolutely free. No credit card required.
Benefits of Toll free number
24*7 customer listening
With a toll free number, your business stays up 24*7. Toll free number provided by MyOperator comes with an integrated IVR facility. That means your customers can call on your toll free number and get help right on their phone. Regardless of the time of the day, your customers can dial your toll free number and get real-time support. During business hours, all the callers can connect with your support executives. After business hours, customers can leave a voice message. Your team can follow-up on customer messages through the live panel. With toll free and IVR combo, you can listen to your customers 24*7. It makes customers feel heard and valued.
---
No tring-tring. Welcome greetings!
Consider three scenarios about the first thing you may encounter when you call a business helpline:
1. "Tring-Tring. Tring-Tring. Tring-Tring."
2. "The number you are calling is currently busy. Please call again later."
3. "Hello, and welcome to [Your Business Name]. Thanks for calling. Your call is important to us. We are connecting you to our care executive."
Which scenario is better? Isn't it the third one where a business greets you with a custom message? With a toll free number, you can greet each of your customers with a welcome message. With greetings, you can make them feel respected and influential.
---
Boost your employees' productivity
MyOperator integrates toll free number with smart Interactive Voice Response (IVR). IVR can route incoming calls on a toll free number to the right person in the appropriate department. Your staff members don't have to waste their time routing calls to the concerned personnel. Toll free number's quick IVR menu well takes care of that task. Toll free number can also be integrated with your CRM software in a few clicks. For every caller, your support executive can get caller details on-screen. No juggling through customer records! Integration of toll free number with IVR and CRM can save hours of your employees' time. No redundant tasks mean a boost in morale and job satisfaction too.
---
Sell 30% more with toll free number
If you want better marketing for your business, you need a toll free number too! Wondering why? Well, research suggests that advertisements with a toll free number bring about 30% more orders than ads without a toll free number. Do you want to lose those 30% more customers? Definitely not. Toll free number is an incredible marketing tool. Be it any marketing campaign, a toll free number can add value and help to generate more leads. People give more credibility to businesses that have a toll free number. Customers associate the products and services with better quality if a business uses a toll free number for marketing.
---
Caring brand image. Better customer retention.
Do you know why customers switch brands? Well, terrible customer service and absence of timely support grab two of the top spots! With a toll free number, you can ensure round-the-clock customer support. That's why customers regard business with a toll number as more caring. Toll free number reflects commitment for better customer service. Toll free number is also easy to remember and unique to your brand. It can increase brand recall and generate about 20%-60% more inbound leads.
---
A base for business scalability
While a customer support or toll free number is a helpline for customers, it's a lifeline for business. On one toll free number, you can add a staff of as many members as your business needs. It empowers your business to take care of many customer calls at the same time. If all executives are busy, calls are logged in the panel for follow-up. That means zero missed calls and a 100% response rate. As your business grows, you can add more staff on your toll free number in a few clicks. All your customers can connect with your business on a toll free number unique for your business—no need to dial numbers of different support executives.
Features of toll free number
MyOperator is an excellent provider of toll free number
Premier customer support
At MyOperator, we ensure round-the-clock support for all customers. We treat every call as an opportunity to solve a problem for our customers and strengthen our relationships. That's how we have won and continue to maintain the faith that 10,000+ companies bestow upon us for their business calls management. As MyOperator customer, you will be entitled to our premier customer care, 24*7. Whenever you need technical help, need to add a new feature, or need any help with your toll free number, you can always call us toll free at 1800-123-7774 and our customer support team will be with you with a solution.
Toll free number with smart features
The toll free number provided by MyOperator comes with rare cloud telephony features. Live call transfer facility and 99.99% uptime are two of them. With live call transfer, your agents can refer customers to other agents without disconnecting the call. The resolution of customer issues on a single call leads to a higher satisfaction rate. MyOperator toll free number is based on the cloud. You neither have to set up any hardware nor spend money on capital expenditure. MyOperator provides an online set up of toll free numbers. Once you sign up, our team will set up your business toll free number in less than one business day.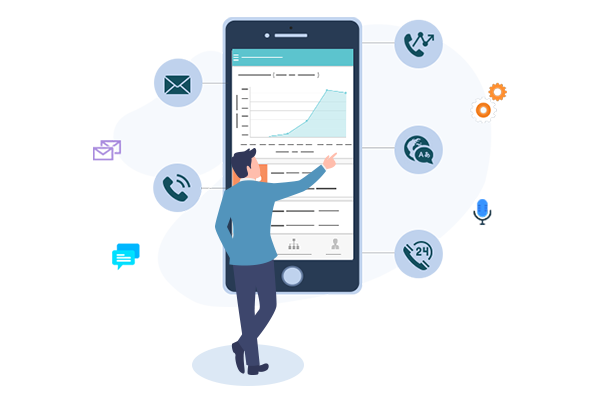 10,000+ Customers Trust Us
Businesses across the globe are using MyOperator for efficient and smooth call management.



Collaboration with MyOperator has been an amazing experience for our entire business as it has automated one of the most tedious processes of our system. This leading cloud telephony product has delivered added benefits to our business in terms of strengthening vendor experience and employee convenience.



This distinctive solution provided by MyOperator has majorly bought productivity improvement of the HR team and allowed them to effectively manage their routine tasks. The result has surpassed our expectations and the system has significantly assisted us in bringing the required ease for our employees.
10,000+

Businesses Activated


200 Million

Calls Enabled


4.5

Google Rating
---
#1 Ranked in India's Cloud Telephony Leadership Matrix
Frequently Asked Questions
We are here to answer all your questions regarding the toll free number and how it can help your business. If you have some other questions, visit our support center.