MyOperator Helpline number for coronavirus
Ensure faster awareness about COVID to your callers with ous provided helpline numbers.
Get number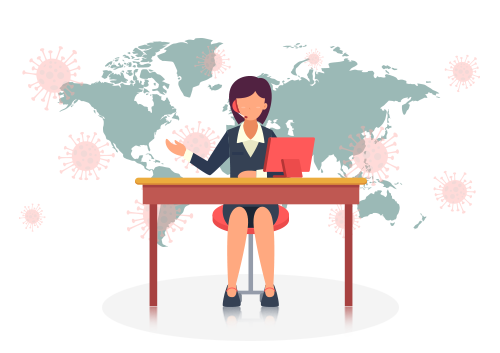 MyOperator powered Helpline Numbers for Corona relief
The Novel Coronavirus Disease (COVID-19) outbreak declared as pandemic has reiterated the call for countries to take immediate actions and scale up the response. Amidst this, many self-help groups, NGOs and even private companies are stepping ahead to mitigate the threat.
To ensure that, several organizations are implementing a COVID helpline number to create awareness about the disease and ensure faster assistance to people. MyOperator is proud to be able to help such businesses in their efforts to curb the COVID impact, by providing helpline numbers along with a complete cloud-based phone system.
COVID helpline numbers are used by organizations
Benefits of implementing a Corona helpline number
24*7 availability for callers
Assure 24*7 on-call availability and accessibility for your callers with a COVID helpline number for your organization.
Centralized number for all regions
Have a common and easily-accessible COVID helpline number for people from all geographical locations.
Remote call handling
Facilitate your frontline executives to attend the calls from their home, without compromising on their own safety.
Real-time call monitoring
Empower your supervisors to keep a constant tab on the on-call communication with real-time generated call reports.
Professional brand image
Prove your business worth and credibility by standing up for your customers and contributing to reducing COVID crisis.
Faster on-call assistance
With an IVR menu in place, allow your callers to connect with their concerned department immediately.
Get Coronavirus helpline number for your organization
10,000+ Customers Trust Us
Businesses across the globe are using MyOperator for efficient and smooth call management.



Collaboration with MyOperator has been an amazing experience for our entire business as it has automated one of the most tedious processes of our system. This leading cloud telephony product has delivered added benefits to our business in terms of strengthening vendor experience and employee convenience.



This distinctive solution provided by MyOperator has majorly bought productivity improvement of the HR team and allowed them to effectively manage their routine tasks. The result has surpassed our expectations and the system has significantly assisted us in bringing the required ease for our employees.
Get a COVID helpline number for your organization
Frequently Asked Questions
Got questions? We've got answers. If you've some other queries, contact our support centre.